The Biostar Handbook: 2nd Edition
Teach Yourself Bioinformatics Today
Welcome to the Biostar Handbook
Last updated on November 05, 2019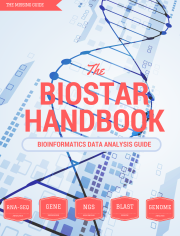 The Biostar Handbook introduces readers to bioinformatics, the scientific discipline at the intersection of biology, computer science, and statistical data analytics dedicated to the digital processing of genomic information.
The Biostar Handbook has been developed, improved and refined over more than a half decade in a research university setting while used in an accredited Ph.D. level training program. The contents of this book have provided the analytical foundation to thousands of students, many of whom have become full-time bioinformaticians and work at the most innovative companies in the world.
News: November 1st, 2019
The Biostar Handbook has grown huge :-) it is now close to 1000 pages! To manage this complexity we have started reworking the various chapters into independent books.
The reorganization will allow readers to more easily locate the information that they need. It will allow us to design and formulate specific training plans that are customized to specific needs. The first book section that has been reworked covers Unix Scripting and is titled:
Over the next year we will move more content into different volumes of the Biostar Handbook. We will be releasing online courses will target specific domains rather than treating bioinformatics as a single subject.

Access to all books and materials are included with your subscription!
How to download the book?
The book is available to registered users. The latest versions can be downloaded from:
The book is updated frequently, especially during the Spring and Fall semesters when the book is used as a textbook. We recommend accessing the book via the website as the web version will always contain the most recent and up-to-date content. A few times a year we send out emails that describe the new additions.
Current online courses
Access to all courses is included with the book for the duration of your subscription.
Access your account
Logged in users may manage their accounts via the link below. You may also change your email or log out via this page.
How was the book developed?
We have been teaching bioinformatics and programming courses to life scientists for many years now. We are also the developers and maintainers of Biostars: Bioinformatics Question and Answer website the leading resource for helping bioinformatics scientists with their data analysis questions.
We wrote this book based on these multi-year experiences in training students and interacting with scientists that needed help to complete their analyses. We are uniquely in tune with the challenges and complexities of applying bioinformatics methods to real problems, and we've designed this book to help readers overcome these challenges and go further than they have ever imagined.
How is this book different?
We use a Question/Answer based format to explain concepts and demonstrate methods simply and practically. We found this to be the most efficient training method for the topics that we cover.
Who is a Biostar?
It is not a what; it is a who. And it could be you. It is the person whose responsibilities go beyond clear boundaries. This book is for them.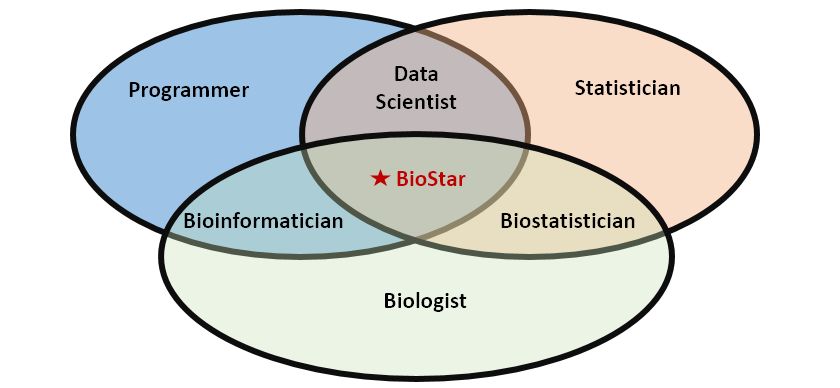 Visualization inspired by a blog post by Anthony Fejes: Who is a bioinformatician?